Where to Find Sacramento's Top Hidden Gems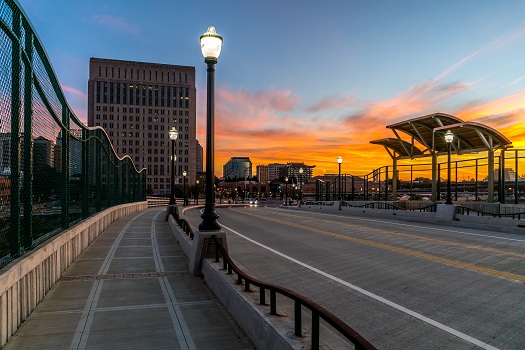 Sacramento's Original Street Level
Devastating floods in the mid-1800s made it necessary to raise the city's original street level to avoid similar disasters in the future. However, for some reason, one small section wasn't lifted and remains at its original elevation. Just across from the entrance to the California State Railroad Museum, you'll find a sunken courtyard with only a simple small sign pointing to the 10-foot-deep depression showing the city's original pre-flood street level.
Sacramento Historic City Cemetery
This is the oldest existing cemetery in Sacramento. Spanning 30 acres, the old cemetery serves as the final resting place for many of the most important figures in California's history, and it's also a fascinating outdoor museum that features stunning landscapes, Victorian gardens, Gothic sculptures, and some of the most exquisite roses in the country. When you explore this landmark site, you'll see why this cemetery is one of the best hidden gems in Sacramento.
California State Indian Museum
At one time, California's Native American population was among the largest in the Western Hemisphere. Prior to the arrival of Europeans, California was home to 500,000 people from more than 150 tribes who spoke more than 60 distinct languages. This museum, opened in 1940, features artifacts, traditional objects, and photographs that showcase the incredibly rich heritage of California's original inhabitants.
Jensen Botanical Garden
Located in nearby Carmichael, this small tranquil garden is perfect for peaceful reflection and the enjoyment of nature. The 3.5-acre garden features a wealth of botanical delights, including roses, tulips, magnolias, coastal redwoods, and blackberry brambles. There's a specially designed Nature Path for the Blind that allows visually impaired visitors to enjoy the garden's aromas and textures, and you'll find a variety of serene spots where you can simply sit, rest, and leave behind the fast pace and worries of daily life.
Sand Cove Park Beach
This beach on the Sacramento River covers more than 10 acres, and you'll find it tucked behind an inconspicuous entrance on Garden Highway. Sand Cove is the perfect destination for people who want to relax, lie in the sun, do a little fishing, or just splash around in the water with their dogs. The beach is home to a variety of species of birds and fish, and it also features a dedicated nature area.
Get a head start on planning your tour of Sacramento's hidden gems by making your reservations today at Lions Gate Hotel, one of the finest hotels in Sacramento. You'll feel like royalty when you stay in any of our spacious, sophisticated suites, which feature LCD flat-screen TVs and free WiFi. Make sure to check out the incredible food at our restaurant and enjoy refreshing cocktails at our on-site bar. Call one of our friendly team members today at (916) 640-0835 to make your reservation.
Recent Blogs