Sacramento River Adventures and Tours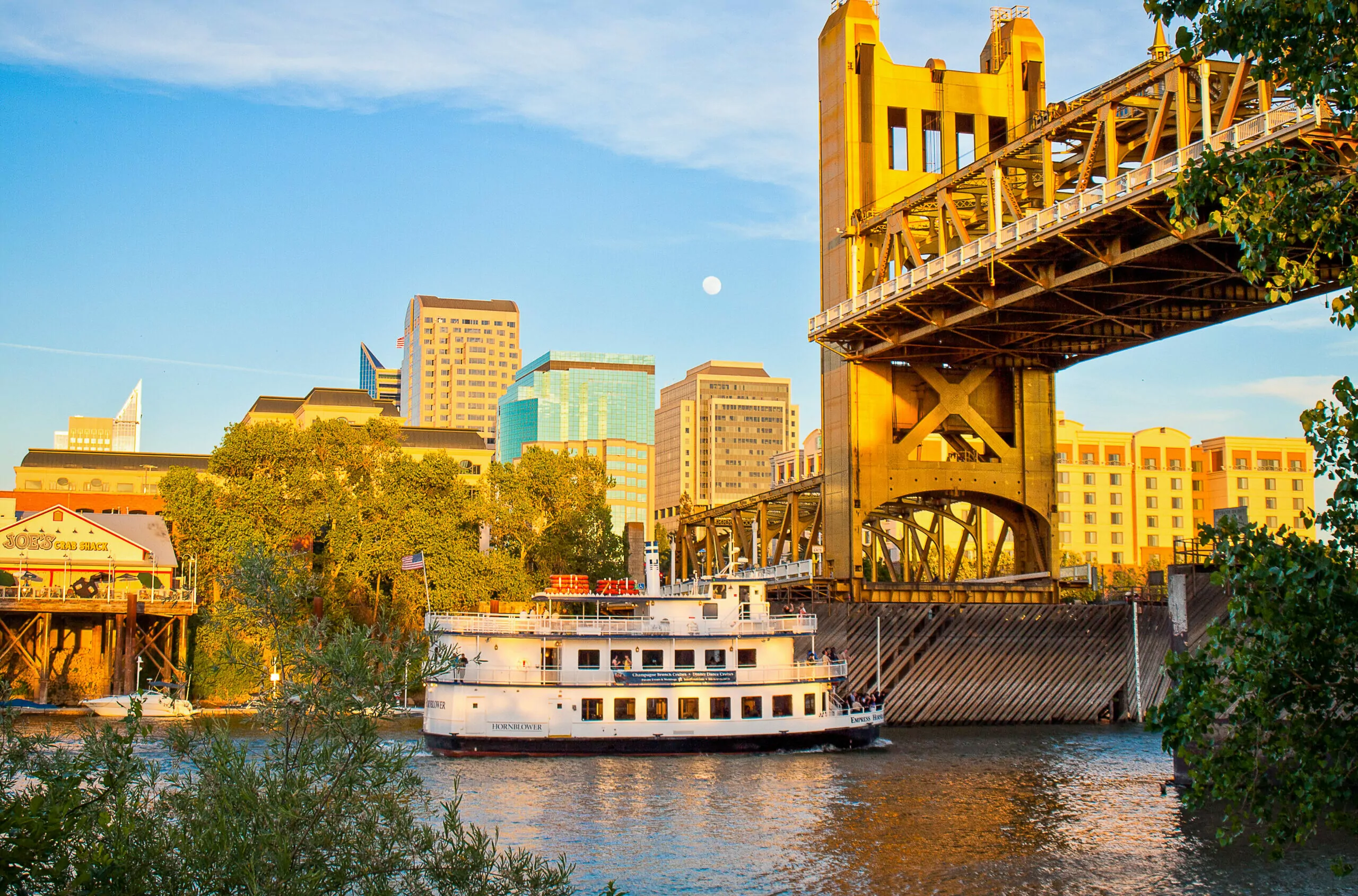 From its headwaters high in the Sierra Nevada Mountains to where it meets the sea on the San Francisco Bay, the Sacramento River winds its way through Northern California's rich historic scenery.
The capital city of Sacramento itself has a wealth of river activities for outdoor enthusiasts that aren't to be missed. Take your pick from rafting, boating, and swimming all along the Sacramento River. Head to the river and enjoy different outdoor adventures for you and your family. Here are our favorites:
Bird watching and wildlife sightings
Get in touch with nature and witness firsthand migratory birds and other native wildlife on a Sacramento river cruise. The Sacramento River is the "flyway" or migratory highway for California creatures – its tributaries provide habitat for an estimated 200 species of birds, including Bald Eagles, Peregrine Falcons, Ospreys, Tundra Swans, White Pelicans, and Black-crowned Night Herons. A river cruise is an incredible opportunity to see these spectacular creatures up close as they migrate along the coast.
Hop on a kayak or jet ski
If you're looking for adrenaline, cruise down the Sacramento River with a kayak or jet ski! Kayaking is the best way to see the River's wildlife because you can really experience their natural element at your own pace. Jet ski tours are perfect for thrill seekers looking for a quick way to jet from place to place. If you're not ready to be the captain of your own vessel, a boat tour on the river is a great option for easy exploring!
Ride the rapids with river rafting
Lazy river days are a favorite California pastime and are best enjoyed with good company! Cruising down the American River from historic Folsom to Sacramento, you'll stop along riverbanks and little island havens. Rafting the Sacramento Rivers is one of the most memorable  things to do in Sacramento. It's got everything you need: rapids, scenic beauty, and fun for all ages. Several rafting companies in the Redding area offer both lazy river and guided white water rafting adventures on the Sacramento River. It is excellent for children, beginners and experts alike! A cruise down the river will be educational for all. Passing through several historical sites, including Shasta State Park, McArthur-Burney Falls State Park, and Lassen Volcanic National Park, there is much to be learned.
Your river rafting adventure doesn't have to end at sun down, either. Many companies offer raft and camp packages so you can keep the adventure going!
Check out H2O adventure to book your rafting and camping trips on Sacramento River: https://www.raft-h2o.com/river-rafting-sacramento
Learn local history on a cruise
Sacramento's vibrant capital city is rich with unforgettable sights and lively history. What better way to learn Sacramento's rich culture than on an hour-long cruise? Throughout the narrated tour, you'll hear all about its illustrious past and role in the wild days of the Gold Rush while experiencing some of the most beautiful vistas California has to offer.
Bike around Sacramento Rivers
Hop on a bike and cycle around the Sacramento River. Sacramento has more than 32 miles of paved bike trails along the scenic American River Parkway and you can start biking at many different points. Rent a bike in Old Sacramento, or hop on the trail in one of the city's green-painted bicycling zones on Capitol Mall—more than 50 miles of bike lanes have been added to the city's streets in recent years!
When you travel to Sacramento, you will definitely want to consider visiting the area by bike. Ask your hotel if this service is available or where the nearest rental stand is. You can find several at the click of a button available in Sacramento!
Festivals and Events
Do as the locals do and join Sacramento's festivals and events. Sacramento is home to a variety of outdoor festivals and events that bring the ultimate charm. The Second Saturday Art Walk occurs on the second Saturday of each month in Midtown, and 20th Street between J and K streets is closed off for the street fair. Visit https://www.sacramento365.com/ for a list of festivals and events.
If you have never been to the Sacramento River, there is no better time than now. With so many outdoor adventure tours and beautiful destinations to visit, it is the perfect place to spend some time exploring. There are many different things that you can do while enjoying this beautiful area, such as hiking or biking in one of the many parks along its banks or take advantage of one of these tours, which offer an up-close look at this amazing River where it all began.
____________________________________________________________________________________________________________________________________
There's no better time than now to cruise Sacramento rivers. Whether you try sacramento river fishing, rafting, or camping, you are guaranteed to have the best times in Sacramento. When you visit the Sacramento River, stay close to adventure at the  Lions Gate Hotel. We are a few minutes away from Sacramento International Airport (SMF) and are surrounded by several businesses and restaurants. Our spacious rooms, modern-day elegance, on-site restaurant, and full-service bar await you after your day's worth of excursion.
Recent Blogs