6 Ways to Have a Great Time in Sacramento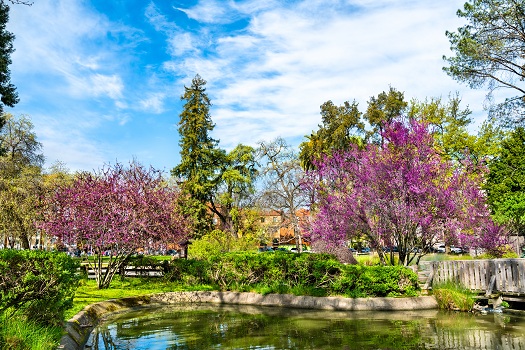 Sacramento is not only the capital of California, but it's also one of the best places to visit when you want to enjoy activities and attractions. There's no shortage of indoor and outdoor fun, and the weather is always pleasant, regardless of when you visit. Below are some adventurous and entertaining things for travelers to do in Sacramento.
1. Go to a Basketball Game
If watching basketball is one of your favorite pastimes, you'll enjoy a fun trip to a Sacramento Kings basketball game. There's also music, dancing, halftime shows, prizes, and food in addition to the actual game. You'll be surrounded by enthusiastic fans of the Kings and the opposing team as well as travelers and residents who just wanted to show up for a good time.
2. Check Out the Bike Trails
Among the many bike trails in Sacramento, one of the most popular is the American River Bike Trail. You'll find other cyclists as well as runners and walkers along this 32-mile trail. Take in views of beautiful lakes and other local treasures, including monuments and sites that will pique your curiosity. It's best to dress comfortably and take some essential extras, including water, snacks, and your smartphone. After a day of cruising on a bike in the sun and fresh air, you'll be ready to head back to your Sacramento hotel for a delicious dinner, some refreshing cocktails, and an evening of relaxation.
3. Visit the Sacramento Zoo
Animal lovers will have fun visiting this zoo and touring the gift shop on the way out. Your family can take advantage of annual events, such as the Dinosaur Safari held in October. At this attraction, you can see a variety of exotic animals, including giraffes, birds, and water creatures. While touring the zoo, you can also read facts about the different animals or visit exhibits and listen to talks given by zookeepers and other staff members.
4. Try Out Ice Skating
Many skating rinks are open during the winter months, allowing you to get out on the ice and have a blast. A popular downtown skating adventure is available from November to January and has everything from festival lights to beautiful decorations, music, food, and special events. You can purchase your tickets ahead of time to ensure admittance while you're here on vacation. Group reservations can also be made, turning the outing into a fun family adventure.
5. Enjoy Some Nightlife
If you want to go out and enjoy some drinks, dancing, music, and mingling, there are a host of fun bars and venues in Sacramento that offer all these things. You can choose from the MIX Downtown, District 30, and more when looking for a lively social scene. Check ahead with each venue to ensure you meet various requirements, such as age and dress code.
6. Ride a Raft on the American River
Catching a thrill on the river is a fun outing many visitors enjoy when traveling to the capital of California. You're bound to find a portion of the river that suits your skills, regardless of the type of rafter you are. This is an adrenaline-filled adventure that could entice the entire family.
When you're planning your Sacramento trip, make sure to reserve a room or suite at Lions Gate Hotel, where history meets modern luxury. We're one of the most comfortable and ideally located hotels in Sacramento. You'll be delighted by our history-inspired aeronautical décor, sophisticated accommodations, and luxurious amenities, including complimentary parking and WiFi, a fantastic on-site restaurant and full-service bar, an outdoor pool, and flat-screen TVs. To reserve your room, call us today at (916) 640-0835.
Recent Blogs